Skip Navigation
Website Accessibility
Flood Control Testing March 14, 2023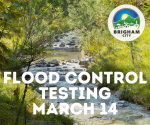 On Tuesday, March 14, residents along Box Elder Creek may notice higher-than-normal water levels. THIS IS NOT THE SPRING RUNOFF!!! Our Public Works employees will be running extra water down the creek between roughly 8am and 3pm as a test. Employees will be out looking for and clearing debris and other obstructions.


We received updated snowpack totals Monday morning. Lower level snowpack has decreased a little bit, due to wind, rain, and higher temperatures. Upper level
snowpack, though, is still increasing, with another 18-24 inches expected over the next few days. We don't anticipate the runoff really picking up yet, but this is obviously dependent on weather conditions. We are monitoring everything very closely and will do our best to keep the public updated.
We remind residents that if you own property along the creek, you are responsible to maintain that property and keep it clear of potential hazards.


Sand bags are still available at the compost site at 820 N. Watery Lane. Residents can bring their own shovels, fill bags, and pay $1 per filled bag.


Box Elder County also participates in CodeRED, which is solely for emergency communications. You can
sign up for that here
.