Skip Navigation
Website Accessibility
Town Hall Meetings 10-24-22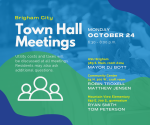 Brigham City residents are invited to meet with the Mayor DJ Bott and City Council members in a series of Town Hall Meetings on Monday, October 24. The mayor and council members will split up and hold three concurrent meetings from 6:30 p.m. to 8:00 p.m.
Mayor Bott will be at USU, 989 S. Main, Room A104. Council Members Robin Troxell and Matthew Jensen will be in the craft room at the Community Center, 24 N. 300 West. Council Members Ryan Smith and Tom Peterson will in the gymnasium at Mountain View Elementary, 650 E. 700 South.
Utility costs and taxes will be discussed at each of the three meetings, and residents will have the opportunity to ask additional questions. Residents who would like a particular topic addressed may send those topics in advance to Mayor Bott at dbott@bcutah.org.